Thanks to advances in tech, photography has become a lot more accessible. Not only can the built-in camera on a smartphone capture high-quality photos, but you can also sign up for and complete a photography class from the comfort of your own home.
If you first feel you need to complete an online photography class before you can move in behind your camera lens, here are 15 of the best online courses and classes currently available. From teaching you the basics of exposure to more advanced editing hacks, these courses cover a wide range of topics and photography styles.
This Udemy photo course has been completed by more than 300,000 students to date, making it one of the best online photography classes aimed at beginners by far. Your instructor will be Chris Bray, an award-winning Australian Geographic photographer. His work has also been published in the likes of TIME Magazine.
Not only will this course teach you more about the basics of how your camera operates, but it will also ensure that you master the correct techniques. During the span of over 2 hours of on-demand video, you'll learn more about the rule of thirds, exposure, metering modes, and much more.
In total, there are 10 lectures. Some of the other topics that will be covered include:
Composition
Lighting
Lenses
Common issues and problems
Exposure compensation
If you're searching for a free photography course that will help you to understand all the features of your camera and teach you how to unleash your creativity, be sure to check out this online course offered by Karl Taylor Education. The instructor, Karl Taylor, is a professional photographer with nearly three decades of experience behind his name. In 2007, he shifted his focus to training other photographers and he's great at explaining complex topics in a straightforward way.
This intro course will give you all the tools and skills you need to boost your confidence and creativity. Over the course of 10 lessons, you'll learn about:
How cameras work
Exposure
Shutter speed
Focus
Aperture and depth of field
Manual mode
Lenses and focal length
Light
Megapixels and sensors
Composition
Completed by over 120,000 students, this photography course aimed at beginners is one of the most popular resources online. It's taught by Justin Bridges, an NYC-based fashion and portrait photographer, who has worked with the likes of Bloomingdales, Amazon, and Saks Fifth Avenue.
There are over 10 lessons that are easy to follow. After completing this intro course, you'll know how to use your DSLR, which includes balancing your shutter speed, aperture, and ISO manually.
In addition to fundamentals like shutter speed, ISO, and aperture, you'll also learn about:
Editing hacks
Buying cameras, lenses, and other indispensable gear
Harvard University isn't just known for fields like law, but it also offers a great intro course to digital photography. This online course is taught exclusively online and students wishing to enroll will be able to complete the work over the course of a longer designated time frame.
Some of the topics that will be covered include:
The basics of exposure
Composition
Lighting
Editing techniques (including colour correction)
Metadata creation
Manual settings
In addition to helping you master the basics of digital photography, it will also cover some topics about the business side of things like how to deliver your images for print and digital media as well as workflow management. With regards to software, students will be taught how to use Lightroom for post-production work. Also, while a lot of the focus is on equipping students with the technical expertise with the help of practical exercises, the course will also pay attention to aesthetic development.
For photographers that specifically use a Nikon camera, there's this intro course offered by the Nikon School. It's a short, easy-to-follow video class that will decrease the learning curve so that you can start capturing great photos basically right away. In addition to exploring the fundamentals involved in taking photos, it also covers tips to help you record HD videos and shoot movies easily.
Some of the topics that will be covered include:
Aperture
Autofocus
Different lenses
Shutter speed
If you mostly take photos using a smartphone, be sure to check out this online photo course offered by Coursera, one of the leading names in online education. Unlike some of the other courses that mostly target DSLR users, this course also shares tips for how to make the most of your mobile device's built-in camera.
While it's aimed at beginners and no prior experience is needed, it requires some commitment. You'll need to be able to set aside about four hours per week for six months. That said, as it's completely online, you can start straight away and learn according to your own schedule. What's more, upon completion, you'll also earn a shareable certificate from Michigan State University to show for your hard work.
A wide range of basics will be covered which include:
Camera control
Principles of composition
Basic camera functions
Different types of digital cameras
Frame and vantage point
Useful accessories
After completing this course, there are also four other courses in this Coursera Specialization that you can complete.
The Reddit Photoclass (aka the R-Photo Class) was created by a professional adventure photographer after several Reddit users requested a quick intro in 2010. Fast-forward more than 10-years and the course is still running and even got its own website.
If you prefer more live interaction, it's also usually presented live once a year via a dedicated subreddit. For this option, you'll need to set aside time for a lesson about every three days. One of the perks of waiting for the live class is that you'll get feedback from other students too.
Alternatively, you can access the 30 available lessons and go over the work at your own pace. Most lessons also have an assignment.
Topics that will covered over the span of these 30 lessons include:
Different types of cameras
Focal length, shutter speed, aperture, and exposure
The histogram
Manual and autofocus
Filters
RAW vs JPEG
Layers and masks
Composition
The Professional Family Portraits course is available on Craftsy.com and is presented by Kirk Tuck, an experienced photographer and author of numerous technical books.
Topics that will be covered include:
In-home photo shoots
Ambient light
Locations for group photos
Processing basics in Lightroom and Photoshop
Props and posing
What makes this course so useful is that it will also teach you strategies for photographing children. Working with this young audience can be especially tricky as they're so busy, but with Kirk as your instructor you'll soon learn how to catch and maintain their attention so that you can capture that precious family moment.
Plus, you don't necessarily need to have access to a studio to put your new skills to good use. In this course, students will also get shown how they can set up an informal photo studio right in their garage.
If you want to extend your scope of portrait photography beyond families, you can check out the Portrait Photography Bootcamp presented by Lindsay Adler, a fashion photographer based in the fashion capital — NYC.
Over the course of 20 high-definition video lessons, you'll learn everything about taking stunning portraits. From lenses to lighting, you can look forward to over 13 hours of valuable educational content. You'll also learn how to photograph groups and full-figured subjects.
Some of the topics that will be covered include:
Camera selection
Camera settings
Accessories
Posing and expressions
Different styles of portrait photography
To date, more than 89,000 students have completed this course. What's more, 98% would recommend it to their peers.
For close-up shots of a different kind, you can check out this online course about macro photography. It doesn't matter whether you're a beginner or already more advanced, this course offers everyone something to learn. The only requirements are a DSLR or mirrorless camera and a computer with Adobe Photoshop.
Over the course of three hours of video content, you'll learn how to:
Choose the right camera, lens, and attachment
Choose the correct light source
Use focus stacking
Process stacked images
What makes this course such an attractive option is that it will show you how you don't necessarily need to buy an expensive macro lens or flash. Instead, it will uncover budget-friendly hacks.
The Massachusetts Institute of Technology offers a useful intro to photography that combines practical instruction, field trips, and group discussions. That said, if you can't complete the practical side, the content on its own is also very useful.
The focus of this course is on developing a better understanding of how photos in our culture are created and constructed. Presented by Prof. Reiner Leist, topics that will be explored include:
Basic black and white techniques
Digital imaging
Camera operation basics
Lighting
Film exposure
Printing and development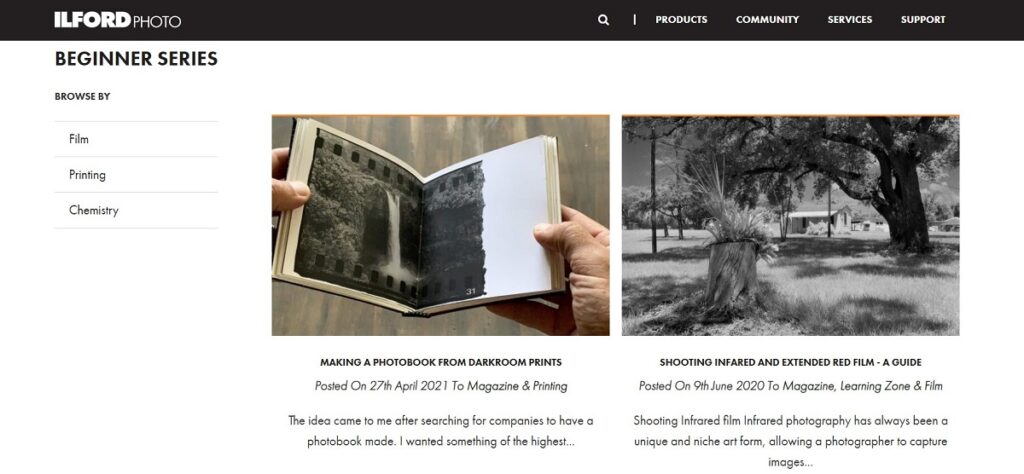 If you're interested in learning more about black-and-white photography specifically, you can also check out Ilford Photo's website. While it's not a course or class per se, Ilford Photo, a UK-based manufacturer of branded black-and-white film, is almost synonymous with black-and-white film photography.
On their website, they offer a wonderful Learning Zone. Here, you'll find a Beginner Series, Expert Series, Print Finishing, and Student and Lecturer Hub sections. You can then refine your knowledge search further by filtering your browse to film, printing, or chemistry.
On their Student and Lecturer Hub section, they also share a couple of educational videos from their YouTube channel.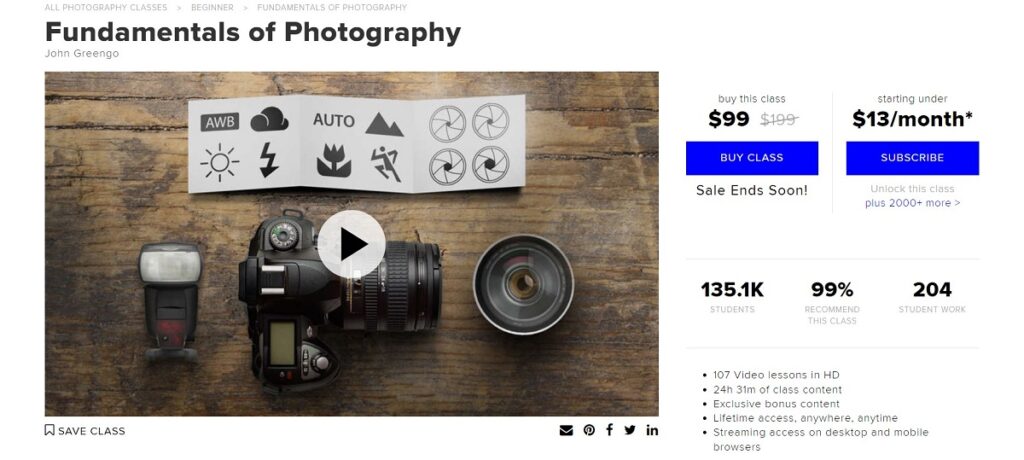 Presented by John Greengo, an award-winning photographer that concentrates on outdoor and travel photography, Fundamentals of Photography will teach you more than just how to operate your camera and equipment. On top of covering these key technical basics, it will also help you to develop your creative vision.
Quality visuals and experiential learning are at the core of this class. Your instructor will help you to evaluate your own processes and goals critically so that you can identify areas that still have room for improvement.
Some of the topics that will be covered include:
Shutter speed, aperture, and image composition
Selecting the right equipment
Creating a workflow
Leveraging natural light
For a more detailed look at how to use shutter speed, aperture, and ISO, you can check out the Intermediate Digital Photography course that's available on Alison. After a comprehensive look at these three key elements, attention will be shifted to using filters and how focal length, lens diameter, and F-stops impact each other.
It will also teach you how to use Photoshop for post-production work. From choosing colors to cropping correctly, you'll be taught various tools and processes to help you boost your photos' overall look.
Some of the main topics that will be tackled include:
Manual settings
Lens filters
Post-production tools in Photoshop like the healing brush and layers
For those that have loads of time to spare, there's this ultimate online masterclass. All that you need is the right attitude and a camera (even a smartphone will do), making it suitable for complete beginners.
Over the course of 27 hours, you'll be introduced to various styles of photography that include:
Wildlife photography
Wedding and event photography
Product photography
Landscape photography
Action photography
Portrait photography
Other topics that you'll learn more about are:
Shooting in manual mode
Essential equipment
Composition
Lighting
Practical business skills
Frequently Asked Questions
Q: What are the best online photography classes?
A: There are a number of great classes about photography that you can complete online. Not only are many of them available free of charge, but they're also suitable for beginners. You can, for example, check out well-known platforms like Udemy, Coursera, and Skillshare. Here are just a few of the most popular ones:
Introductory Photography Course by Udemy
Fundamentals of DSLR Photography by Skillshare
Photography Basics and Beyond: From Smartphone to DSLR Specialization by Coursera
Q: Can photography be taught online?
A: Various topics and skills can be taught online, including photography. You can easily teach yourself how to take great photos. All you need is guidance from a more experienced photographer, some free time, and the right equipment. 
Q: Can I teach myself to be a photographer?
A: Definitely! There are many, easy-to-follow online courses that will teach you the ins and outs of photography. As many of them offer a flexible schedule, you can work according to your own pace. 
Q: Are online photography classes worth it?
A: If you're unsure about whether or not photography is for you, signing up for an online photography class can be a great idea. As many of them are available free of charge and require only a few hours per week at the most, you don't really have anything to lose.