© Nick Brandt, Courtesy of Edwynn Houk Gallery, New York.
Meet Nick Brandt, professional photographer with a powerful and important message behind his work. Nick is a renowned published photographer included in the publication titled 50 CONTEMPORARY PHOTOGRAPHERS YOU SHOULD KNOW alongside world famous photographers such as Annie Leibowitz, Sebastiao Salgado and Michael Kenna to mention a few. We strongly agree with Nick's values and concerns striving to create awareness of the endangered natural world around us. We are very excited to present this Q&A session, to learn more visit Nick's website at www.nickbrandt.com/
What inspired you to be a photographer?
The ongoing rapid disappearance and destruction of animals and the natural world. Initially I wanted to record a final testament to it before it all disappeared and then show the ways in which it was occurring.
What was your first camera and what is your brand of choice today?
I have always photographed with medium format black and white film. Inherit the Dust was shot with the Mamiya RZ67II due to the convenience of its revolving film back.
The latest project, out of practical necessity, is for the first time medium format digital, and, due to much of it being shot at night, color.

© Nick Brandt, Courtesy of Edwynn Houk Gallery, New York.
How much Photoshop do you use?
I always try and photograph in camera as much as possible.
For Inherit the Dust, life-size panels were printed and made of some of my unreleased animal portraits. These were then erected within a world of explosive urban development, factories, wasteland and quarries, in places where animals such as these used to roam, but no longer do.
Of course, most people, much to my frustration, especially when viewing in crappy small format on a computer screen (the prints are 6-10 feet long), think they photos were just dropped in in Photoshop. But it was superior in so many ways to photograph with the panels there. Not just technically, for better integration, but also in terms of happenstance - for the great unexpected things that happen by the photos being physically there and how people interact with them.
Any photographers that inspire you?
My favorite photographers pretty much all used black and white - Edward Steichen's early pictorialist work, Richard Avedon's portraiture, Josef Koudelka's early work, Sally Mann's Immediate Family.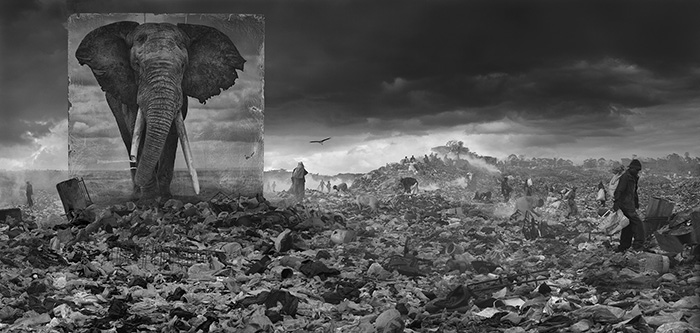 © Nick Brandt, Courtesy of Edwynn Houk Gallery, New York.
What is the drive behind your photography, what message do you want your viewers to get from your photos?
I always see myself dealing with environmental themes. With the destruction of the animal and natural world by man. It's kind of my mission, why I became a photographer. If people become more aware of this, are more moved by this planetary apocalypse, and thus maybe even do something themselves about it, no matter how small, then great. It's also important to me to show that humans are also the victims of environmental devastation too.
How has photography influenced your life?
I love the medium of photography as an art form because unlike filmmaking, it gives me (or any of us) the freedom to create how I want, what I want, when I want. In that regard, it has been personally liberating to have a public voice for my feelings and ideas.
Can you give us a preview about what is your next project?
It will be released in Feb 2019 with a new book and multiple exhibitions worldwide. It will continue with the environmental themes and is still in Africa. But I'm very reluctant to say more than that because I've spent two years of my life and a bloody fortune doing it again in camera, and it's possible to do a very inferior version of it in Photoshop, so the less said, the better!

© Nick Brandt, Courtesy of Edwynn Houk Gallery, New York.
Do you have an ideal/dream project?
I have been fortunate enough to so far be able to afford to do each ideal/dream project as they come into my head.
But as the work becomes darker and thus less accessible, we'll see how much longer I am able to do that.
We are sure that you enjoyed this Q&A as much as we did preparing it. We hope you take the message behind Nick's work with you and help us spread the word about what we can do to help our natural world. We are grateful with Nick for his work, goals and for taking the time to share this Q&A with the ViewBug community.