Lightroom Presets for Professionals and Beginners
Lightroom presets are a quick and efficient way to adjust your photographs. Anyone can benefit from using them, whether you are a professional photographer or a beginner. Presets define a style and help you create a cohesive body of work. They automate the editing process and release you from repetitive tasks. They are so easy to apply that you almost don't need to learn to use Lightroom to work with presets.
Furthermore, there is a huge variety of Lightroom presets on the market, and you can always create your unique presets, too. You'll never run out of inspiration and will be able to perfect your photographs in seconds. Even if Lightroom isn't your primary photo editing tool, other photo editors support Lightroom plugins and allow you to use the presets. So there are plenty of reasons to start using Lightroom presets.
However, two aspects may keep you back. The first one is how to find beautiful and reliable presets, as the Lightroom preset market is already immense and expanding fast. The second one is how much you should spend on presets, as you may like presets that aren't free.
To help you get started, here are the best free and paid Lightroom presets and bundles to try right now and all you need to know to incorporate them into your editing workflow.
20 Best Free and Paid Lightroom Presets and Bundles to Try in 2023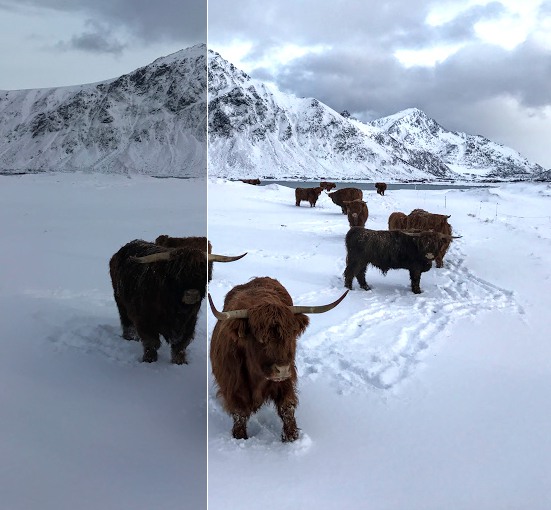 Viewbug is a community of photographers who share their passion for photography and support each other to be better photographers. The platform provides tools for creating and showcasing photo portfolios, regular photo contests, and many other useful resources. It encourages interaction, feedback, and appreciation. But to win the community's admiration, one needs exceptional photographs. And for that, Viewbug offers its members 40 free Lightroom presets.
Viewbug's Lightroom presets cover all photographic genres, from portraits to nature to street life, night photography, lifestyle, and travel photography. Some of them provide subtle adjustments for fixing the smallest imperfections; others are dramatic and impactful and create vibrant images with unique looks. The collection aims to help both professionals and amateurs and adapt to all styles and techniques. Viewbug is inclusive and encouraging, which shows even in their Lightroom presets choice.
Sleeklens offers a broad collection of Lightroom presets that includes over 2,400 presets. You can buy all of them or select the ones that fit your artistic style. For example, Sleeklens sells separate Lightroom presets for portraiture, landscape photography, aerial photography, and even pet photography. You may also go for a particular mood, such as a romantic golden hour or Halloween. There is a preset or a bundle for every idea you might have.In addition, Sleeklens offers products for other photo editors, such as Luminar and Photoshop. For example, you can find here a free Photoshop actions pack and Luminar presets. If you use a Lightroom plugin to access Lightroom presets from different software, browse Sleeklens' entire offer for more goodies.
If you are looking for either free or paid Lightroom presets, Greater Than Gatsby is a place to consider. They offer presets for the types of photography in the portraiture category, such as studio portraits, weddings, newborns and children, and family. You will also find many styles and aesthetics, from black and white to cinematic, pastel, airy, and vintage. Their presets add professional polish and improve the commercial quality of your photographs.
Greater Than Gatsby focuses on delivering high-quality presets, easy to use and modify. They are also compatible with many Adobe Lightroom versions.
Another Lightroom presets shop for portrait and lifestyle photographers, Wilde focuses on providing a glamorous commercial look. Whether your brief says rich contrast or holiday mood, Wilde presets take you there in seconds. The offer is diverse and inspirational. For example, you can find presets built around a color (e.g., cinnamon), a season (e.g., autumn vibes), a holiday (e.g., Halloween), or a place (e.g., Morocco). Your photos will become atmospheric and connect with the viewer to a deeper level.
Wilde is a good place to look for black and white presets too. They have an editorial vibe that ranges from cinematic effects to classic black and white photography to shiny or matte looks.
Preset Love is a popular place to look for Lightroom presets because of their generous 300+ free presets offer. They support Adobe Lightroom CC, Classic, and Mobile, and the installation process is explained in a comprehensive guide.
Preset Love is a good choice for photographers in the portraiture category (e.g., professional headshots, family portraits, children portraits, wedding photos, beauty and fashion, etc.) but also for photographers aiming to perfect their HDR, commercial, lifestyle, landscape, and nature photos. Furthermore, one can easily spot an inspiring style and create atmospheric photos that resemble film photography, vintage images, or black and white fine art.
Creative Market may very well be the only place to look for Lightroom presets. They offer an abundance of vintage, retro, and film-look presets as well as stylish presets for lifestyle and commercial photos, glamorous presets for boudoir photography, elegant presets for wedding photography, and much more. You can buy them in small collections or exhaustive bundles.
Moreover, at Creative Market, you have direct contact with the photographer who designed the presets and can even sell your own. You will find support, inspiration, and a community of creators.
Sometimes, to find Lightroom presets that match your photographic voice, you need to go to the source. Trey Ratcliff's photography offers unique Luminar, Aurora HDR, and Lightroom presets. They have a different vibe than other presets and aim to create fine art photos rather than commercial photos.
Trey Ratcliff's photography provides Lightroom presets for portraits, street photography, and landscape photography. In terms of styles and looks, it has a dreamy, ethereal, and colorful approach. The presets reduce noise and adjust contrast and color, but they also increase the vibrancy and sharpness of the photos. The result is natural-looking and mesmerizing at the same time.
If you need Lightroom presets for landscape photography, Landscape Legend has you covered. As a landscape photographer, you want the photos to resemble beautiful scenery. You need natural-looking effects that don't overpower natural colors but can reduce haze and improve contrast. And that's exactly what Landscape Legend offers: 150 one-click presets that create natural-looking images and save you time and energy.
Landscape Legend also provides 130+ stackable workflow presets that you can modify and customize to your needs, along with 55 graduated filter presets and 70+ adjustment brush presets for working with fine details. Their presets are compatible with Lightroom CC for Mac and PC.
Loaded Landscapes is another comprehensive website for purchasing Lightroom presets for landscape photography. They provide not only presets but also video training on how to use them, blogs on nature and landscape photography, and other relevant resources.
In terms of Lightroom presets, Loaded Landscapes offers presets for all seasons, techniques (e.g., HDR), and styles (e.g., the 80s and 90s vibes). You can also find 40+ film presets that recreate the look of iconic film cameras, such as Agfa, Kodak, and Ilford.
Presets Heaven offers 365 free Lightroom presets for every occasion and type of photograph. They may save some ruined Christmas family photos or perfect wedding photographs. You can find presets for fixing skin imperfections or regaining nature's colors. Presets Heaven thought of everything from vacation photos to landscapes and street photography.
The website is a good choice if you are a beginner or amateur and need quick fixes on a budget. Their presets are compatible with Lightroom 4 and Lightroom 5.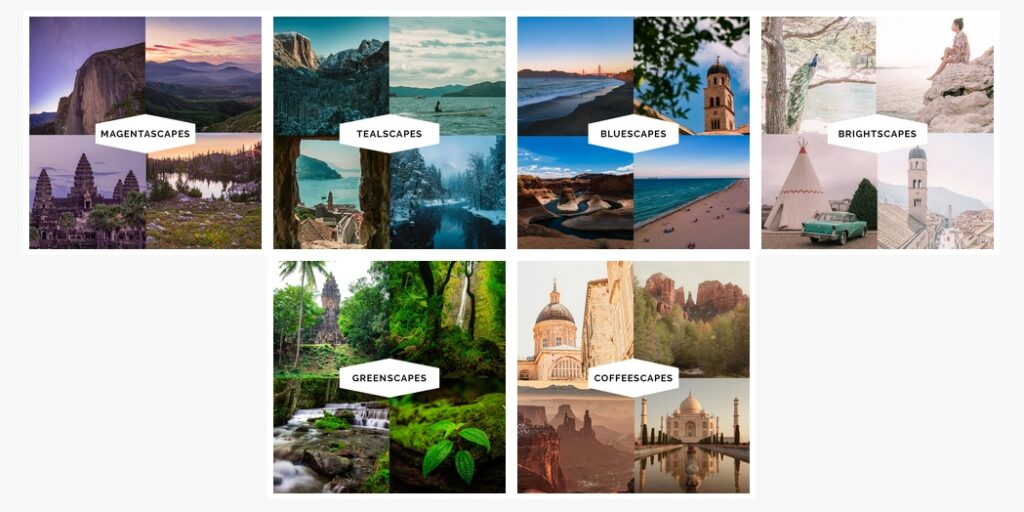 Photo Argus provides a Lightroom preset bundle for landscape photography that includes 40 presets and 20 brushes. The presets fit the most common scenarios and aim to be quick and efficient. You can use them as they are or customize them to match your artistic brief. Photo Argus divided the presets into two categories: Vibrant Landscapes (for photo retouching) and Stylization Presets (for creating effects, such as boho, airy, dreamy magenta, and more). You can purchase them individually or as a pack.
Photo Argus is a good choice if you need more than presets, such as Lightroom books and resources. They also publish articles that give a general overview of the world of photography.
Devian Art is a community of creators, and among them, there are many talented Lightroom presets designers. The platform intermediates the interaction between the creator and the buyer, providing a straightforward and authentic experience. Furthermore, it supports you in selling your work in the form of digital photography or Lightroom presets.
Although it's not always easy to find the perfect preset on Devian Art, the level of creativity and versatility the platform offers is beyond expectations. You get the raw feeling of dealing with artists and a nice feeling that each pixel matters and each idea is precious.
Using their patent-pending lighting condition-based technology, Visual Flow Presets aims to provide Lightroom presets that work in any light conditions and provide a consistent look for all your photos. Their packs include presets for the most common lighting conditions, such as soft light, hard light, backlit, tungsten, and HDR.
Visual Flow Presets offers presets for all sorts of portrait photography, from editorial and lifestyle to wedding, family photos, and fine art. Their style is sophisticated and professional-looking, so it will be easy to find a favorite. Presets are compatible with Lightroom CC, Classic, Mobile as well as Adobe Camera Raw.
If you use both ON1 and Lightroom, you have a complete experience with the two powerful editors and a broad range of presets. Therefore, ON1 offers free Lightroom presets packs that fix any type of photographs in seconds. They have a signature collection for general-purpose photography that cover Instagram filters and grunge looks, one for photo retouching, and a 40 presets collection for landscape photography.
ON1 Lightroom Presets are designed for professional photography. You can preview and download them directly from the ON1 website.
Contrastly offers a complete Lightroom presets bundle that includes more than 1,450 Lightroom presets. It's the only Lightroom presets pack you'll ever need because it's impossible not to find a good match in so many options. The bundle is organized by theme and style into collections that range from wedding photos to seasons to dramatic HDR effects. They cover portraiture, landscape photography, lifestyle, street life, commercial photography, and everything in between. They even have dedicated presets for a particular location, such as the Mojave Desert and the Merced River. The Essential Collection includes 222 presets for photo retouching, which makes your life easier and helps you spend less time editing your photos.
FixThePhoto provides everything you need for editing your photos, from Lightroom presets to Photoshop Actions to photo editing services. They have a wide range of presets that cover all photographic genres and artistic styles. You can easily find presets for wedding photography, real estate photos, portraiture, landscape photography, product photography, and even underwater photography. There are plenty of styles and effects to choose from.
FixThePhoto is perfect for professional portrait and commercial photographers who want to create a consistent style and retouch large packs of photos in no time.
Created by photographers and photo editing specialists, FilterGrade's Lightroom presets offer signature looks and unique styles. They cover all photographic genres, from portraiture to travel photography, and help you create any mood or atmosphere. Furthermore, FilterGrade encourages both professional and amateur photographers by providing three licenses: Personal, Commercial, and Extended. So if you only want to enhance your family pictures, you can buy the presets at a more affordable price.
By offering Lightroom presets for 25 photographic genres, FilterGrade is a good choice for any type of photographer. Most presets are compatible with Lightroom CC, Classic, and Mobile, but for some of them, you can also find versions for Capture One. FilterGrade also offers Photoshop actions packs.
Transforming a passion into a job, the owners of BeArtPresets offer Lightroom presets and Photoshop actions to all photography enthusiasts out there. Their presets collection includes mostly presets for portrait photography, whether editorial, fashion and beauty, wedding, or studio portraiture. However, they have a few presets packages for product photography, interior design, and travel.
BeArtPresets has a glamorous commercial style that prepares your photos for prints and magazines. They are stylish and look professional and bright. You can find presets for summertime vibes, atmospheric shots, appetizing food, and dreamy interiors. No dark moods and bad energy here.
Photography Pla.net aims to deliver Lightroom presets and Photoshop actions for the most common styles and looks. They have mostly presets for portraiture, landscape photography, and travel photos but a more diverse mood range than other providers. For example, you can find vintage and film-inspired looks, pinhole and tilt-shift effects, urban styles, and lomography-inspired looks.
If you are a nonconformist photographer looking for cinematic looks or old photography styles, Photography Pla.net is a good place to look for Lightroom presets. It provides a youthful and colorful atmosphere that doesn't always follow the rules.
Presets come with installation instructions and are compatible with Lightroom CC, Classic, and Mobile.
Presetpro provides presets for Lightroom, Photoshop, Capture One, and Luminar, some free, some paid. It's a vast territory for a Lightroom presets hunter where they can find presets for editing landscape photographs, retouching portraits, creating film emulations, perfecting lifestyle snapshots, beautifying wedding photos, or enhancing star photographs.
Presetpro also covers any possible mood and atmosphere, including stylish destinations such as Santorini and city nightscape vibes. It's a good shop for professional photographers who have established their style and need to create cohesive portfolios. Presetpro's presets aim to prepare your photos for print.
Conclusion
Lightroom presets are not only useful but also inspirational and educational. They are synced to the cloud and available on all your devices therefore, they are always at hand. They provide instant retouches and create atmosphere and impressive effects. But they are also customizable. You have access to all their parameters and can see what effect each of them has. So learn from Lightroom presets and use them to improve your editing experience and create amazing compositions.
Q/A Block:
How to Use Lightroom Presets
You can apply Lightroom presets to a single image or to a bunch of images, which makes them very time-efficient but also helpful in creating a uniform style. For example, when you have multiple images from the same photo session featuring similar lighting conditions and colors, applying the same preset will create a roundabout body of work with powerful storytelling abilities.
Having good file management skills is key when it comes to working with presets. You need a reliable system that tells you where your presets files are and which ones you should use. Give them meaningful names and use categories to set them apart. Organize them based on purpose (e.g., photo retouching, enhancing color, fixing contrast, etc.), subject matter (e.g., people, newborns, nature, animals, interiors, etc.), and style (e.g., film-inspired, vintage, dreamy, neon, etc.).
Before applying any preset to an image, here is what you need to know.
What are Lightroom Presets?
Lightroom presets are combinations of actions that modify your image in a single step. For example, instead of adjusting one by one contrast, brightness, tone, and color vibrancy, a preset modifies all of them according to a predefined set of parameters. All adjustments and settings are saved in a file with a .lrtemplate extension.
A preset may have a correctional purpose (e.g., reduce noise, enhance colors, improve contrast) or an artistic one (e.g., recreate an old camera effect, create a mood, add golden hour colors). Most of them aim to provide commercial looks, such as editorial, product and food photography, and portraiture. Many presets also focus on recreating film-inspired styles and analog photography effects.
How to Add Presets to Lightroom
After downloading free or paid Lightroom presets, you need to add them to Lightroom. If the download process delivers an archive, the first step is extracting the .lrtemplate files in a folder. Then, start Lightroom and open the Preset Panel.
In the Preset Panel, you have all the installed presets organized in folders. As a general rule, use different folders for different types of presets and give them relevant names. To import new presets, right-click on the destination folder and select Import.
How to Create Presets in Lightroom
Although it's easy to use presets created by other photographers, you can always create your own Lightroom presets. Start by editing an image according to your style. When you are satisfied with the result, click the Presets button below the Edit Panel. 
There is a three-dot icon on the top right of the Presets Panel. It opens a menu. Select Create Preset from the menu, enter a relevant name in the edit box, choose a group or create a new one, select which edit settings to include, and click Save. The new preset will be available in the Presets Panel.