Landscape photography is the type of photography that captures images of natural landscapes. Pictures of mountains, forests, oceans, and deserts are landscape photography. The main purpose of landscape nature photography is to display the beauty, colors, shapes, and mood of the environment. Some of the key aspects of scenic photography you need to know to learn landscape photography include:
scenic environments
composition
lighting
equipment
post-processing
timing
consideration
Taking landscape photography requires a lot of patience. A photographer first located a picturesque and visually appealing spot. The quality of light should not be underestimated. Many landscape photographers enjoy taking photos during "golden hours" as the landscape pictures then come out soft and warm.
One of the most important aspects of a beginner landscape photography is equipment. Landscape photographers usually use wide-angle lenses and a tripod. But no matter how good the landscape shot is, many still use Adobe Lightroom and Photoshop to enhance the result. It actually can be quite exciting to play with exposure and contrast.
It is all about timing - this is what most landscape photographers will tell you. Sometimes, it takes an hour to catch the right landscape and nature photography moment when the lighting is perfect, and the most stunning views are highlighted.
If you are interested in landscape photography, you can find useful references at wiki and information about equipment shared by the best photographers.
Beautiful Landscape Photography
How to take a good landscape photo? A good landscape photo that you can be proud of is the one that takes you back where you once stood. Looking at your artwork and feeling proud requires skills and time to practice landscape photography tips for beginners. In this part of the article, you will find 7 landscape photography tips on how to take brilliant landscape photos.
Mountain
To capture scenery shots of mountains, you need a wide-angle lens. If you short mountains from a helicopter, use a fast shutter speed and a polarizer to cut glare. Also, try a narrower angle, as it will allow you to focus on details.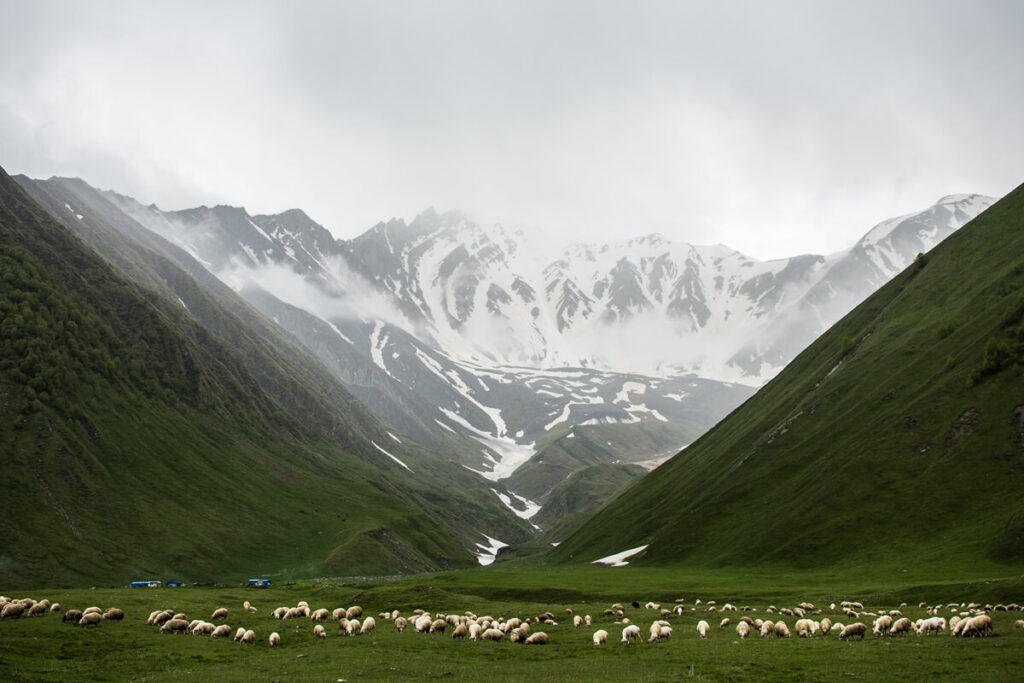 Forest
If you ask how to do landscape photography, for example, in the forest, the answer would be pretty simple: study the location. Explore the area and find the most attractive corners. Shoot with a telephoto lens or wide-angle lens. Also, your macro lens may be handy when shooting in the forest.
Sunset
Golden hours are many photographers' favorite time as that specific light can highlight landscape nature. During sunset, colors are more vibrant, and contrast is greater. Play with silhouettes and shadows, sunset shots, and angles. This is probably the most exciting part of learning how to take a landscape photo.
Winter
Taking landscape nature photography in winter requires prolonging the exposure time and using a tripod to avoid shaking. As a result, you should get soft and smooth colors. Winter nature landscapes usually come out breathtaking.
Beach
Probably everyone loves beach landscape photography, which includes sand and water. One of the landscape techniques photography for shooting on the beach includes using long exposures, allowing for the motion to come alive in your photos, especially if you want to capture moving water. Use a DSLR camera and slow down your shutter speed between 5 and 30 seconds long. This is a really valuable landscape photography technique.
Night
If you are aiming to take engaging nature and landscape photography at night, you certainly need a good camera and some knowledge. Shoot stars by bringing a tripod, keep your F-Stop wide, and bump your ISO as high as possible. This is one of the landscape photography techniques that professional photographers use for shooting at dark times.
Wildlife Landscape Photography
Wildlife tips for landscape photography for beginners include choosing a fast shutter speed, putting the camera in aperture priority mode, and choosing a mid-range ISO. Of course, you can not forget a long lens. Another good skill that is required for cool landscape photos that include wildlife is patience.
Landscape photography settings and equipment
No, you do not need a bag of tools and accessories to make an outstanding image. Having good taste is enough in most cases. However, we still have a list of our favorite gear for scenery photography that we would like to share with you:
Goal Zero Chargers, so you never run out of power during your landscape photography nature process.
Nemo Camping Gear in case you aim to capture a great landscape at night or early in the morning.
Peak Design Camera Straps to keep your camera safe.
Induro Tripod for long exposures.
Sony cameras for capturing sun rays, snow, rain, and all-weather seasons. Our favorite makes are a7ii, 16-35mm f/4, 24-70mm f/4, a7s, and 16-50mm.
What about the technical part of scenic photographs? Check out this list:
DSLR: This type of camera uses mirrors to direct light from the lens to the viewfinder. Try the Sony a7rii with 16-35mm f/4, 24-70mm f/4, a7s, and 16-50mm lenses.
Shutter Speed: The amount of time your camera shutter is open is measured in seconds. Use lower shutter speeds between 5 and 30 seconds and a tripod to capture motion and or starscapes.
F-stop or aperture: It is the length in diameter that your lens is open. Lower f-stops between 1.4 and 3.5 etc) create less depth and a blurrier background, so you can focus on a particular object. Higher f-stops between 5.6 and 22 etc enable sharp backgrounds.
ISO: Sensitivity to light plays a vital role in taking good landscape pictures. Use lower ISO (100 - 250 etc) in lighter conditions and a higher ISO (1600 - 3200 etc) in darker environments.
Polarizer: The filter assists in removing reflection and color boosts in landscaping photography. HOYA filters suit every photographer's skills and come at reasonable prices.
Best cameras for landscape photography
Nowadays, everyone can take a picture. Your smartphone can do it. Take it out of your pocket and snap an image. However, engaging landscape portraits requires more than a smartphone camera.
Even a simple landscape photo has unique requirements. You need a camera with a high image resolution, a decent megapixel, a wide dynamic range, and ISO. Well, smartphone cameras, even expensive ones, simply do not have all these features.
The cameras that will cope with all weather conditions and will display what your eyes see are professional cameras like Sony, Canon, Nikon, and Fujifilm. Each camera is set up slightly differently and has its pros and cons. It is solely up to you what camera to buy, depending on how you like to shoot.
You can not go wrong with any of these systems. All of the above-mentioned brands are the best full-frame cameras that are perfect for landscape photography beginners and experts.
DSLR camera (for professional landscape photography)
One camera that impresses with its dynamic range and high resolution is the Nikon D850. No matter what time of the day or night you would like to shoot, no matter if you fancy black and white or golden hours, and no matter whether you like to focus on a single object or show full-scale landscape shots, this DSLR camera would be our first choice.
Mirrorless camera
There are quite a few decent mirrorless cameras, but the best one overall is the Sony A7 IV. This is a modern hybrid camera that might be too much for beginners, but certainly a perfect match for professionals. The A7 IV offers an amazing autofocus and an endless buffer depth. It may not be the best solution for photographers interested in shooting sports and action, but it is certainly designed for good landscape photos.
Compact camera (for beginners landscape photography)
The best nature photography landscape can happen thanks to Fujifilm GFX 50R. You will be pleased with the quality, performance, and the price. This compact camera offers 51.4 MP on a full 44 x 33 mm medium-format sensor, which is still considerably larger than a full-frame sensor. This model is pretty light and ergonomic, so once you get used to its features, you will carry it everywhere with you. It is fully weather-sealed and is able to operate down to -10ºC, making it excellent for winter nature landscape.
Smartphone (for a simple landscape photography)
If you do not need any perks but simple landscape photography, there are several models that can tick your box. Sony - Xperia 1 V is capable of taking a cool landscape photo. The smartphone has the "main" (24mm) camera and a decent dynamic range. Samsung Galaxy S24 Ultra is equipped with a 200-megapixel sensor, 3200 x 1440 (463) resolution, allowing you to take wide-angle and zoomed-in basic landscape photography still full of colors. Finally, we would recommend the iPhone 15 Pro for simple landscape photos as it features an 8MP main camera, second‑generation sensor‑shift optical image stabilization, 100% focus pixels, and is perfect for high‑resolution photos.
Simple landscape photography
For a simple landscape photography, check out this link, as it has quite a good selection of stunning landscape photography examples. We would also recommend you join this community to share your landscape photos, rate others' works, and get inspired by multiple landscape photography ideas.
The best thing about taking nature landscape pictures is that you can do it anywhere. So, landscape photography basics include your attention, a good camera, and knowing the landscape photography settings you need to use for specific results.
FAQ:
The Rule of Thirds in Photography
Your lens has three vertical and horizontal lines, yielding a 3×3 grid with nine equal parts. Taking photos by following the context of the rule of thirds usually results in greater shots.