Are you an adventurer or photographer looking for new and exciting places to explore and take photos in Oahu? Look no further! In this blog post, we'll reveal some of the best secret photo spots on the island. From Makapu'u Tide Pools to Koko Crater Railway Trail, these hidden gems will provide stunning backdrops for any photo shoot. Get your camera ready, and let's discover some of Oahu's most beautiful spots!
Located on the southeastern coast of Oahu, Makapu'u Tide Pools offer an adventurous and breathtaking experience for those willing to seek it out. This hidden gem boasts stunning panoramic views of the ocean and surrounding cliffs and unique geological formations that create natural swimming pools during low tide.
Makapu'u Tide Pools offer a hidden gem with stunning panoramic views and unique geological formations, making it a secret photo spot for adventurers seeking Hawaii's natural beauty away from crowded beaches.
Despite its beauty, Makapu'u Tide Pools remain relatively unknown among tourists due to its secluded location. Visitors must navigate a rocky trail cautiously to reach this picturesque spot. However, the effort is worth it for adventurers looking for a secret photo spot that captures Hawaii's raw natural beauty away from crowded beaches and tourist attractions.
Location
The North Shore is famous for its surfing culture but is also home to some stunning photo spots. Haleiwa Beach Park offers a picturesque bay with crystal-clear waters and coconut trees lining the shore. Banzai Pipeline and Sunset Beach are popular surf spots providing an adrenaline-fueled adventure for those looking to capture action shots.
Kaka'ako Waterfront Park is a hidden gem in downtown Honolulu, featuring beautifully landscaped gardens and scenic ocean views. This park provides ample opportunities for nature photography, including botanicals, groves of trees, and even caves carved into the cliffs.
Lanikai Beach on Oahu's windward side boasts calm turquoise waters, making it perfect for capturing breathtaking sunset photos. Nearby attractions include Kailua Beach Park and Maunawili Falls Trail if you're up for an adventurous hike or exploring volcanic craters.
Why is Makapu'u Tide Pools a secret spot?
Lesser known among tourists, Makapu'u Tide Pools is a secret spot that promises adventure and stunning ocean views. While it requires some hiking, this hidden gem is worth every step.
Here's why Makapu'u Tide Pools are a secret spot:
It's less crowded compared to other beaches in Oahu.
The hike is not too challenging and takes about 30 minutes (one-way) from the parking area.
You'll be rewarded with breathtaking views of the Pacific Ocean and surrounding cliffs once you get there.
If you're looking for an off-the-beaten-path destination that offers adventure and beauty, Makapu'u Tide Pools should be on your list. Don't forget to bring your camera along, as this place offers unique photo opportunities!
If you're looking for hidden gems on Oahu to capture stunning photos, Ka'ena Point Trail is a must-visit location. This secret spot offers breathtaking coastal views and plenty of opportunities for nature photography.
As you make your way along the rocky trail, watch for secluded spots where you can snap pictures of the ocean waves crashing against the shore or unique rock formations. And if you're lucky, you might even glimpse some rare wildlife like Hawaiian monk seals or Laysan albatrosses in their natural habitat.
Location
Suppose you are looking for some secret photo spots in Oahu. In that case, you must explore the North Shore's Sunset Beach, East Oahu's Makapuu Lighthouse Trail, and Central Oahu's Wahiawa Botanical Garden. Each location has its unique charm that is perfect for capturing breathtaking photos.
Sunset Beach on the North Shore is a great place to catch sunsets over the ocean and surfers riding waves. On the other hand, Makapuu Lighthouse Trail offers stunning panoramic views of crystal clear waters from elevated heights while also giving opportunities to capture pictures of migrating humpback whales during winter months. Lastly, dodon'torget about Wahiawa Botanical Garden, which blends nature with manmade structures in an elegant way that provides beautiful photographic moments throughout all seasons.
These secret photo spots are just a few examples of what makes exploring Oahu so exciting—there's always something new around every corner!
Why is Ka'ena a secret spot?
Requires some hiking to get to the best spots, is not as well-known as other popular photo locations on the island, and offers stunning views of the coast and ocean - these are just a few reasons why Ka'ena is a secret spot for photographers and adventurers seeking hidden gems in Oahu.
Many people overlook Ka'ena due to its remote location; however, those who take the time to hike through its rugged terrain will be rewarded with breathtaking sights that are unique compared to other more frequently visited areas on the island. Whether looking for an untouched natural landscape or dramatic ocean views, Ka'ena offers something unique.
So if you're up for an adventure and want your camera lens pointed at some of Oahu's most exclusive locations, grab your hiking boots and head over to Ka'ena Point State Park!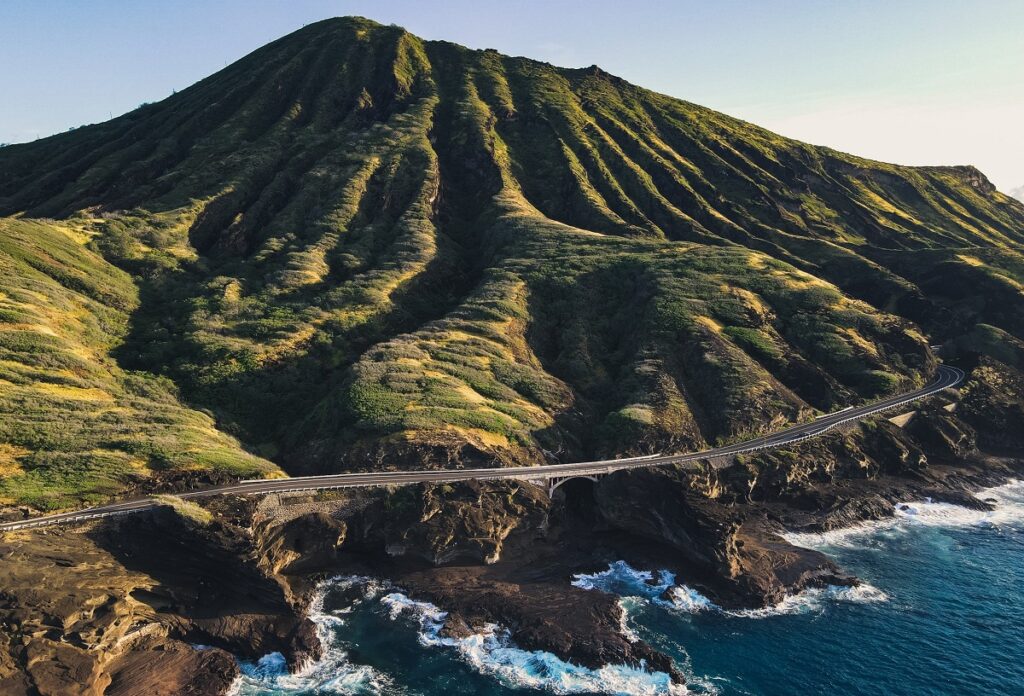 Is a hidden gem for adventurers and photographers looking for secret photo spots in Oahu. This trail offers breathtaking views of the island's natural scenery, including lush greenery and stunning ocean vistas. This spot is so special because it remains relatively unknown to tourists, giving visitors a chance to capture unique photos without having to contend with crowds.
Koko Crater Railway Trail remains a secret spot because of its challenging terrain. The steep incline and rocky path require hikers to be physically fit, making it less accessible than other popular hiking trails in Oahu. However, those who undertake the trek are rewarded with unparalleled panoramic views at the top that make for incredible photo opportunities.
Location
North Shore, Lanikai Beach, and Tantalus Lookout are some of the most picturesque locations on Oahu. The North Shore is famous for its huge waves, perfect for surfing, and stunning sunsets. On the other hand, Lanikai Beach offers a more tranquil environment with crystal clear waters that make it an ideal spot to take photos or relax by the shore. Tantalus Lookout is worth checking out if you're looking for panoramic views of Honolulu city lights at night or scenic hiking trails during the daytime.
You're whether you're a professional photographer or just someone who loves taking pictures as a hobby, these secret photo spots in Oahu will not disappoint! From breathtaking ocean views to lush forest scenery, there's something here for everyone. So grab your camera and get ready to explore!
Why Koko Crater Railway Trail is a secret spot
Located off the beaten path, Koko Crater Railway Trail is a hidden gem offering stunning panoramic views of the island and ocean. Visitors can enjoy this unique spot with fewer crowds because it is not as well-known as some other trails on Oahu.
The abandoned railway track also provides unique photo opportunities for adventurous photographers seeking something different to add to their portfolio. The trail's rugged terrain and beautiful scenery make it an ideal place to capture memories that will last a lifetime. So, if you're looking for secret photo spots in Oahu, Koko Crater Railway Trail is worth exploring!
Nestled between the lush green mountains and the sparkling ocean, Kahana Bay Beach Park is a hidden gem that offers breathtaking views for adventurous photographers. This secret spot boasts secluded beaches, dramatic cliffs, and serene hiking trails, providing endless opportunities to capture stunning photos. Whether you're looking to explore the rugged coastline or capture the vibrant colors of sunset over the water, Kahana Bay Beach Park is a must-visit destination for any photographer searching for unique photo spots on Oahu. Kahana Bay Beach Park is amazing because it is remote from tourist hotspots. It provides an uncrowded, peaceful atmosphere that allows photographers to focus on their craft without distractions. The beach park has become increasingly popular among locals who appreciate its natural beauty but remains relatively unknown among tourists, making it perfect for those seeking hidden gems. With its untouched landscape and serene ambiance, this secret spot should be added to your list of photo locations when visiting Oahu!
Location
Oahu's North Shore is a must-visit for adventurous photographers looking to capture some stunning shots. With its rugged coastline, powerful waves, and breathtaking sunsets, it offers plenty of unique opportunities to test your skills behind the lens. However, don't overlook the less traveled parts of Oahu for hidden gems waiting to be discovered.
When it comes to capturing beautiful photos, topography matters. Finding the best spots for a clear view of your subject or an interesting perspective can take your photography game up. So grab your camera and explore what Oahu offers – who knows what secret photo spot you might unearth!
Why is Kahana Bay Beach Park a secret spot?
Off-the-Beaten-Path Beauty: Discovering the Hidden Charm of Kahana Bay Beach Park
Kahana Bay Beach Park may not be as well-known as other beaches on Oahu, but that's part of its charm. Here are some reasons why this hidden spot is worth a visit:
The secluded and serene atmosphere with fewer crowds
Unspoiled natural beauty surrounded by lush greenery and mountains
Unique rock formations, tide pools, and lava cliffs create incredible photo opportunities.
Escape from Crowds: Exploring a Serene and Secluded Spot on Oahu
If you're looking to escape the hustle-bustle of busy tourist areas in Oahu, then Kahana Bay Beach Park is an excellent choice. This secluded beach park offers the following:
A peaceful retreat away from crowded tourist attractions
Fewer visitors mean more privacy for swimming or sunbathing
Plenty of space to relax and enjoy the beautiful scenery.
The Perfect Blend of Nature and Culture: Capturing Authentic Hawaiian Scenery at Kahekili Beach Park
Kahekili Beach Park isn't just about soaking up the sun—there's plenty here for nature lovers. The park features:
Clear blue waters perfect for snorkeling or paddleboarding
Beautiful coral reefs teeming with marine life
Visitors can explore a rich history dating back to ancient Hawaii through cultural activities like hula dancing or lei-making demonstrations.
Whether you're searching for off-the-beaten-path beauty, a place to escape crowds, or an ideal blend of nature and culture – these secret spots offer something unique that will satisfy any adventurer/photographer looking for new places to explore in Oahu!
Are there any secret photo spots known only to locals on Oahu?
Absolutely! While popular tourist spots like Waikiki and the North Shore are always great places to take photos, there are also some hidden gems known only to locals. One spot that comes to mind is Laniakea Beach, which is a great place to see sea turtles and has some stunning ocean views that make for great photos. Another spot is the Moana Surfrider Hotel in Waikiki, which has a beautiful Royal Hawaiian feel and some great palm tree-lined paths that make for great Instagram-worthy shots. For those who want to get a bit more adventurous, there are some fantastic hikes like the Pillbox hike in Lanikai or the Makapu'u Lighthouse hike, which offer stunning sunrise views and unique landscapes to photograph. And last but not least, the Byodo-In Temple in the town of Kaneohe is a hidden gem that not many tourists know about, but it offers a tranquil and picturesque setting for photographers. So, to capture some truly unique and beautiful shots, explore some of Oahu's lesser-known spots.
Are there any secret beaches on Oahu that make for great photo opportunities?
Absolutely! Oahu is home to some of Hawaii's most beautiful and hidden beaches. One of my favorite hidden gems is Laniakea Beach, or "Turtle Beach." This serene beach on the North Shore is the perfect spot to snap some photos of the local sea turtles.
Another great spot for photos is Moana Surfrider Beach in Waikiki. The palm trees and crystal clear waters make for the perfect Instagram shot.
For those who enjoy hiking, I highly recommend the Makapu'u Lighthouse Trail. The breathtaking ocean views and the lighthouse at the top are worth the climb. Another excellent hiking spot is the Lanikai Pillbox Hike, which offers stunning views of the town and the ocean below.
If you're looking for a peaceful and spiritual setting, the Byodo-In Temple is a must-visit. This Buddhist temple is set against the lush green mountains and has a stunning reflection pond. The sunrise at this location is truly breathtaking.
Overall, Oahu has no shortage of hidden gems and photo opportunities for adventurers and photographers alike. It's all about exploring and discovering the beauty that this island has to offer!
Are there any secret waterfalls or hidden valleys on Oahu that are great for photography?
Yes, plenty of hidden gems on Oahu are perfect for photography! One of my favorites is Laniakea, a royal temple located in the town of Waialua. It's a bit off the beaten path, so not many tourists know about it, but the lush greenery and ancient ruins make for some fantastic shots.
Another spot to check out is the Moana Falls hike. It's a bit of a trek, but the waterfall at the end is worth it, and the trail itself offers plenty of photo opportunities with its bamboo forests and scenic bridges.
For a more adventurous option, try the pillbox hikes along the coast. There are several trails to choose from, but they all offer stunning ocean views, and you can even climb on top of the pillboxes for some unique shots.
Lastly, if you're looking for a classic Hawaii shot, head to the palm trees at sunrise in Waikiki. It's a popular spot, but if you get there early enough, you can still capture the beauty of the sky and the palms without too many people in the shot. Happy exploring and snapping photos!