For aspiring photographers, how to make money with photography is often a struggle. They start their journey full of enthusiasm and artistic dreams. On the way, they notice that making a living as a photographer isn't exactly easy. Furthermore, professional photo gear comes with a price, as does visiting interesting locations or photographing professional models. If you add photo courses, photography books, and other educational materials, one can end up in urgent need of an income. So read on to find out everything you need to know about how to make money with your photography.
How to Make Extra Money with Photography
A good way to make money with photography is to consider it a part-time job and use any opportunity to sell your work. It may be selling prints, stock photos, or albums. It may be running paid photo sessions. Or it may simply be selling your photography knowledge. However, before selling any photography-related products and services you need to find your voice as a photographer and create a strong portfolio. And all you have to do are three steps.
Choose Your Preferred Photographic Genre
If you want to make money with photography, you need to focus on one photographic genre. In the beginning, having focus builds the right mindset and helps you create more cohesive and impactful work. When you target more than one genre, you risk becoming a jack of all trades, master of none. So choose one of the following genres, acquire the right gear for it, and practice until you become a master with a strong portfolio:
Nature Photography includes photographs of nature-related subject matters such as wildlife, flowers and plants, insects, rocks, and many others.
Landscape Photography includes wide, even panoramic, photographs of landscapes. They don't necessarily have to include just nature. Landscapes may also include roads, buildings, or an entire city (i.e., cityscape).
Travel Photography includes photos of iconic places and cultures and documents the life of people around the world.
Street Photography focuses on people and their lifestyles, usually in cities or villages. It's a type of candid photography, meaning you capture snapshots (i.e., you don't stage your photos).
Drone Photography includes all photographs taken using a drone. It's sometimes called aerial photography. The subject matter varies from landscapes to weddings.
Food Photography includes, of course, photos of food, ingredients, and table arrangements.
Product Photography is a type of commercial photography that focuses on objects. You can use your photos as advertisements or website and magazine illustrations.
Adult Photography or Boudoir Photography focuses on nudes and sensual studio photographs.
Lifestyle Photography is also a type of commercial photography that includes photos of interiors, architecture, and objects but focuses on the people who use them and their way of life.
Macro Photography refers to photographs of tiny subjects taken with a magnification ratio of 1:1.
Fine Art Photography is artistic photography that aims to be exhibited in an art museum rather than in a magazine or website. It's not intended to be commercial, but a form of artistic expression similar to a painting.
Mobile Photography refers to photos using a phone camera. It focuses on speed of reaction, creativity, and the ability to maneuver the camera in unusual angles (e.g., selfies).
Decide on a Location Type for Your Photo Setup
Will you take your photos in a studio, outdoors, or indoors? The location type dictates the gear you'll need. It also indicates the technical skills you require, such as working with natural light or a complex lighting setup, using models or capturing snapshots, taking photos in bad weather conditions or poor light, and so on. If you want to know how to make money with photography, you need to have the basics sorted out.
Consider How Serious You Want to Commit to Photography
How you'll be making money with photography strongly depends on how committed you are to photography.
If it's a hobby, you may want to check out how to make money from online portfolios, selling existing photos, and creating content. It won't be a steady income but, nevertheless, a good-to-have one.
If you are an entry-level photographer committed to becoming an established photographer, you may want to take an assistant job, start printing your photos, and participate in photo competitions. In the beginning, photography will most likely be a part-time job but will generate a constant income.
Professional photographers may be hired for commissioned photography, such as advertising, studio photo sessions, or editorials. For them, photography is a full-time job.
16 Ideas for Aspiring Photographers to Make Money
So, how can an aspiring photographer start to make money from photography? They chose a photographic genre, decide on a location, and are sure they want to pursue a career in photography. What's the next step that can generate some income?
1. Create and Use a Social Media Account
Now that you have a portfolio, it's time to showcase it. And nothing is easier and faster than creating a social media account, uploading your photos, and sharing them with your network. Choose any social media you like or are familiar with, from Instagram and Pinterest to Facebook to LinkedIn to Behance.
But don't use your personal account. Make an account dedicated to your photography and keep it professional. It's the account you'll be sharing with future clients and interested galleries. Also, don't upload photos at full resolution on social media for copyright protection.
2. Build a Personal Website
A personal website is more professional than a social media account. It shows commitment and invites the audience into a space specially created to showcase your work. The design compliments your photos. Your artistic statement, biography, and story reflect who you are as an artist. On a personal website, you can organize your photographs as you wish, sell individual photos or collections, or sell limited edition prints.
And if you think it's difficult or expensive to build a personal website, a free website builder such as Viewbug can get you out of trouble in no time.
3. Write for a Photography Blog
A photography blog may include just photos and act as a personal website or photos and text and look more like a blog. Furthermore, it can be yours, shared with a group of people, or somebody else's, in which case you are a contributor.
You can make money with a photography blog in several ways. If it's yours or partly yours, you can host ads, enroll in affiliate programs, or write advertorials. You can also sell photographs or prints. If it's not yours, you can get paid for writing articles or contributing with photos.
4. Do Writing or Gear Reviewing on the Side
Once you master composition and photo gear, you can start sharing your knowledge and earn some money. Many photography sites pay for relevant articles about photography techniques and reviews of the latest cameras and lenses. You may also want to write about photo editors you use and photo editing techniques.
Writing helps you stay up to date with the latest innovations, continue improving your skills, and get to know photography communities.
5. Be Active on Photo Sharing Websites
Photo sharing websites don't bring you money per se. However, they have a broad audience of people interested in photography. Among them, you may find professional photographers, gallerists, editors, and people in search of good photographs for their businesses.
By building a big following on photo sharing websites such as viewbug, 500px, or Flickr, you increase your chances to be discovered or booked for a paid job.
6. Enter Photo Contests Regularly
Photo contests are a way of showcasing your portfolio and receiving feedback. They help you improve and compare with your competition. At the same time, they have prizes in money or photo gear. Furthermore, photo contests bring you visibility. For example, if you register on viewbug, one of the largest photo communities, and enter their photo competitions, your photographs will be featured and seen by a large audience.
7. Take a Job as an Assistant Photographer
The best way to learn photography is to practice. And what better way to practice than taking a job as an assistant photographer and learning from an established photographer? Leaving aside that it is a paid job, you also have the chance to learn new techniques, work with professional equipment, deal with clients, and learn how to manage a photo business. The added value is much more than the salary.
8. Collaborate with Other Photographers
If you don't manage to make money with photography on your own, join a team. Group exhibitions, for example, are much easier to put together and attract more people. They improve your chances of being noticed or offered paid jobs.
Collaborations may also help you be part of a paid team of photographers commissioned for big jobs, such as photographing an event (e.g., festival, conference, wedding, etc.), creating business portraits for a large company, and documenting sports competitions(e.g., the Olympics).
9. Sell Your Services as Gigs on Fiverr
On Fiverr, freelancers have an opportunity to showcase their work and sell their services in a controlled environment. To sell your photographs as Gigs on Fiverr, you need to create a package and specify the exact conditions of the deal, such as price, delivery time, the number of photos included, whether you provide a model or not, and whether you edit your photos or not.
To be competitive on Fiverr, you need a professional portfolio but also to deliver on time, create high-quality images that fit the client's brief, and have good reviews on previous jobs.
10. Sell Your Photos as Stock Photographs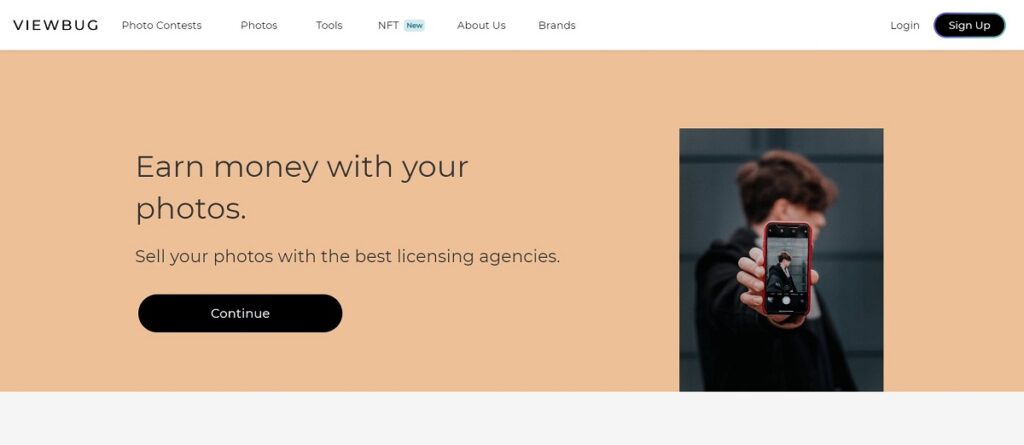 Stock photographs are generic photographs that illustrate magazines and websites. They represent one of the easiest ways to make money with photography because you can sell the same photograph thousands of times. And you don't even need to look for clients.
All you need to do is upload your photographs on a stock library website such as Shutterstock, iStock, Depositphotos, or Viewbug. They take care of everything from showcasing your photos to agencies and clients to protecting copyright to sending you money each time someone buys one of your photos.
However, the percentage you get from the price of a photo varies from website to website. viewbug, for example, gives you 50%; others give you less. And, stock photos require high quality, perfect clarity, and an interesting subject matter for the client.
11. Create & Sell NFTs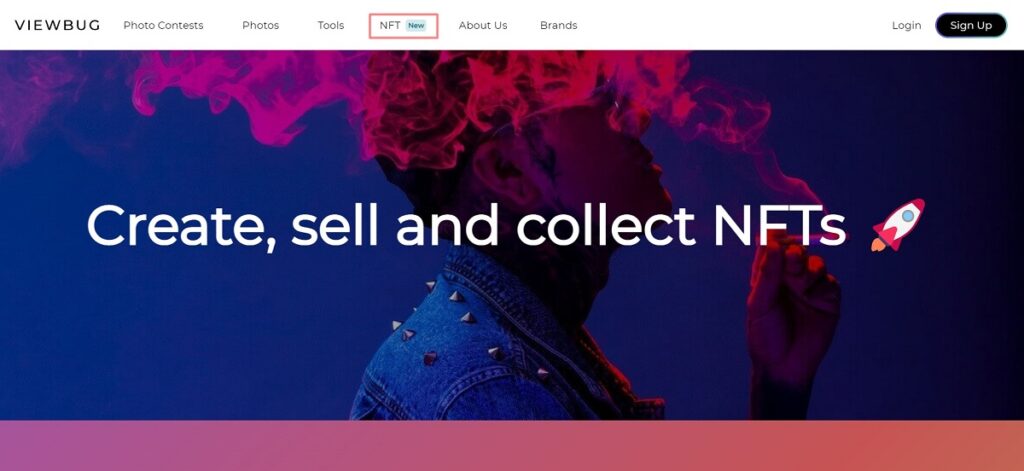 An NFT marketplace is a place to enter the blockchain and make money with your photography while retaining ownership of the photos. In short, NFT stands for 'non-fungible token', which is a digital asset that can be sold on blockchain. And digital asset means anything from animations to graphics to digital photos. So here is another way to sell photos.
Moreover, an NFT is unique. Even if the first buyer sells it to someone else, you still own the photo and can receive royalties at each sale. And because NTFs are on trend, they are collectible, meaning you can mix your photos with others and create impressive collective collections.
12. Sell Prints & Photo Books
A classic method of making money with photography is to print your photographs and sell them as cards, framed prints, calendars, and photo albums. Each type of product works better with a particular photographic genre. Ensure you create a cohesive product from culling your images to selecting printing material and frame.
For example, to sell your photos as décor prints, they may need to be enlarged, which requires a high resolution and quality. To sell your photos as calendars or photo albums, you need a photo series with a narrative line and a meaningful message.
13. Teach Online Photography Courses
If you want to make money with photography by sharing your knowledge, teaching an online photography course is a good idea. You can use any platform and format you like, such as YouTube videos, e-books, or a combination of text and videos.
Consider the audience you target before creating the course and decide whether you want to address advanced photographers or beginners. Then, consider the topic of the course. You may focus on your preferred photographic genre, composition, or technique.
14. Host Photography Workshops
Workshops are easier to manage than courses. They are shorter and target a single topic. Most of them don't require videos. A PDF document with text and illustrating photographs is usually enough. Photography workshops are also less expensive than classes and more photographers can afford them. One of the easiest ways to reach a large audience and sell your workshops is on Etsy. But you can also sell them on your website or blog.
15. Host Photography Tours in Your City
It's an inedited method of making money with photography, but it's very rewarding. Besides generating an income, photography tours help you get to know fellow photographers interested in the same subject as you. You can share your experiences and knowledge and even make new friends.
However, you can't host photography tours for any photographic genre. The most popular tours target architecture, travel, street, wildlife, and landscape photography.
16. Try Real Estate Photography
Real estate is always in need of a good photographer. And it doesn't have to be your only occupation. You can photograph houses from time to time to fix your budget.
But, real estate photography is challenging. It requires high-quality images of interiors, which do not always benefit from the best lighting. It also requires ultra-wide angles, which means you have to add to your gear at least a wide-angle lens. And it requires precise geometry. You can't curve the walls or bend the lines. Real estate photos are an accurate representation of the space you photograph.
How Much Money Can You Make with Photography?
No one can tell you from the beginning how much money you'll be making. And how much money other photographers make varies from photographer to photographer. Some statistics place the average salary between 30k and 70k per year. However, most photographers are freelancers and don't earn a monthly salary. And to average the income of a beginner with the income of Albert Watson or Annie Leibovitz isn't exactly correct.
A photographer's income depends on many factors, such as fame, years of experience, photographic genre, and exposure. A photographer featured in Vogue for ten years will make a lot of money. A nature photographer who just started photography will probably make much less.
For a beginner, other factors enter the equation: How good is your gear?, How much time do you spend with photography? Are you available to travel for a photo session? Do you edit your photos yourself? and the list goes on.
In conclusion, it takes years before one starts making serious money with photography, and it happens only if one commits and stands out from the crowd. Photography requires passion, patience, and dedication. The good news is photography can bring you money even if it isn't a full-time job. So it's hard to live on photography but easy to round up your income.
Frequently Asked Questions:
Q: How do I get my photos noticed?
A: First of all, create a strong portfolio that represents your artistic vision. Be consistent and create a personal style. Then, exhibit your work in the right places, such as a professional social media account or website, important photo competitions, photo sharing websites, and so on. If you want to sell prints, think of a way to display your photos printed, such as a group exhibition or a café. Try to showcase your work where it has the opportunity to reach the right audience.
Don't forget about connecting with your peers, using a photo community as a way of popularizing your work, writing and teaching photography, and finding ways to collaborate with other creatives. Networking is important.
Q:
How to make money with photography as a teenager?
A: Basically, you can earn as much as an adult, but you have to work a little bit more on some points. For example, as you don't have a CV that includes a background in photography, you may need a strong portfolio to prove yourself. Ensure you share it in the right places, such as photo competitions and photo communities.
You may also have a lower budget for photo gear, in which case a secondhand or entry-level professional camera may be a good idea.
Q: What types of photos sell best?
A: It depends on the photographic genre and type of selling. For example, stock libraries sell better individual photographs, shot at wide angles, capturing persons no one know or generic subjects. But if you want to sell nature photographs to National Geographic, you need to capture spectacular landscapes in remote locations or extreme weather conditions. If you want to sell portraits, street or travel photographs, unique angles and artistic perspectives take you out of the crowd. Prints for interior design need to be decorative, while photos to be printed on mugs and T-shirts may need to be funny or meaningful.
Q: Can amateur photographers make money?
Yes, amateurs can make money, but they probably won't live on photography. As an amateur, you can sell stock photos or NFTs, create a personal website and monetize it, create content for photo blogs, and enter photo competitions for amateurs.