San Diego is a photographer's paradise! With its picturesque coastline, stunning sunsets, and historical landmarks, there's no shortage of photo opportunities. Whether you're an amateur or a pro, these top San Diego photo spots are sure to impress. From La Jolla Cove to the Gaslamp Quarter and beyond, let's explore some of the best places in town to capture that perfect shot.
La Jolla Cove is one of the top photo spots in San Diego. This picturesque beach, located just a few miles from Balboa Park, offers stunning views of the Pacific Ocean and the surrounding cliffs. The crystal-clear water and abundance of marine life also make for beautiful underwater shots.
La Jolla Cove is a top destination for beautiful underwater shots due to its crystal-clear water and abundance of marine life.
Whether you're an amateur or professional photographer, La Jolla Cove should be on your list of must-visit places in San Diego. With its beautiful scenery and endless photo opportunities, this beach is perfect for capturing memories that will last a lifetime. So grab your camera and head to La Jolla Cove to snap some fantastic photos!
Overview
San Diego is a city that is filled with natural beauty and iconic landmarks, making it an ideal destination for amateur photographers. From the stunning beaches to world-renowned Balboa Park, there are countless photo opportunities in this Southern California gem.
Introduction to San Diego's photography scene
A brief history of some famous San Diego landmarks and attractions
Why San Diego is a great place for amateur photographers
When it comes to photography, San Diego offers something for everyone. Whether you're into capturing the perfect coastal sunset or exploring the city's diverse neighborhoods, there's no shortage of inspiration here. Plus, with its mild climate year-round and easy access to outdoor spaces like Balboa Park and the beach, it's no wonder why so many aspiring shutterbugs call this place home.
Photo Opportunities
San Diego is a photographer's paradise; there are many beautiful places to snap great shots. Here are some of the best locations in San Diego for taking stunning photos:
Best sunrise and sunset photo spots in San Diego:
Sunset Cliffs Natural Park
Mount Soledad Veterans Memorial
Top beach locations for taking photos in San Diego:
La Jolla Cove Beach
Coronado Beach
Most picturesque parks and gardens in the city:
Balboa Park Gardens (including the Japanese Friendship Garden)
Botanical Building at Balboa Park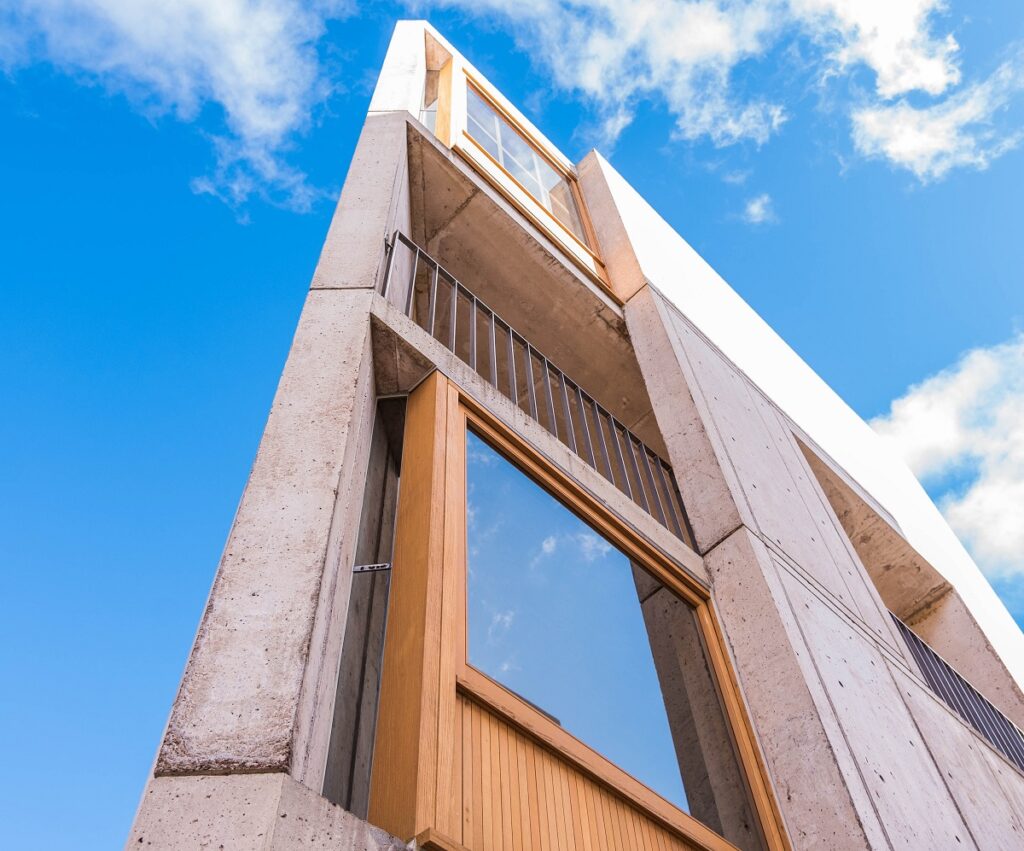 Nestled on the bluffs of La Jolla overlooking the Pacific Ocean, the Salk Institute of Biological Studies in San Diego is not just a center for scientific breakthroughs but also a captivating architectural masterpiece. Designed by renowned architect Louis Kahn and established by Jonas Salk, the institute has become an emblem of scientific innovation and architectural brilliance. The story of the Salk Institute is as inspiring as the discoveries that emerge from its laboratories.
In the early 1960s, Jonas Salk, the polio vaccine developer, envisioned a space that would foster collaboration among scientists from different disciplines, free from the constraints of traditional laboratory structures. With this vision in mind, Salk enlisted the help of Louis Kahn, a visionary architect known for his mastery of light, space, and materials.
Kahn's design for the Salk Institute was nothing short of breathtaking. He created a symmetrical layout with two mirror-image buildings flanking a central courtyard that opens up to the stunning panoramic views of the ocean. The buildings are made of concrete, steel, and glass, combining bold geometric forms with a sense of openness and tranquility. The use of natural light, the interplay between shadows and reflections, and the careful consideration of proportions all contribute to the institute's timeless elegance.
As a photographer, capturing the essence of the Salk Institute can be a rewarding experience.
Here are some recommendations to help you make the most of your photography session:
Explore Different Angles: Experiment with different vantage points and angles to capture the buildings' unique lines, shapes, and textures. Move around the courtyard and observe how the light interacts with the architecture from various perspectives.
Utilize Natural Light: The Salk Institute is known for its exquisite play of light and shadow. Pay attention to how the natural light changes throughout the day and how it interacts with the surfaces and materials of the buildings. Sunrise and sunset can offer particularly enchanting lighting conditions.
Emphasize Symmetry and Reflections: The symmetrical design of the institute lends itself well to compositions that highlight balance and reflection. Look for opportunities to incorporate reflections from the courtyard's shallow pools or capture symmetrical compositions that showcase architectural precision.
Include Human Elements: To provide a sense of scale and add a human element to your photographs, consider including scientists, visitors, or staff members in your shots. Candid moments of people interacting with the architecture can add depth and storytelling to your images.
Pay Attention to Details: From the textures of the concrete walls to the intricate patterns of the windows, the Salk Institute is filled with captivating details. Zoom in on these details to capture the craftsmanship and uniqueness of the design.
Visit During Special Lighting Conditions: The Salk Institute takes on a different character during different times of the day.
Consider visiting during golden hour or blue hour to capture the institute bathed in warm or cool tones. The changing light can create a mesmerizing ambiance.
Remember to respect the institute's guidelines and be mindful of the ongoing research activities taking place there. While the exterior of the Salk Institute is accessible to the public, some areas may be restricted, so be sure to adhere to any signage or instructions provided.
Balboa Park a must-see destination for amateur photographers in San Diego. With its beautiful architecture, lush gardens, and stunning views, there are plenty of photo opportunities to capture. One favorite spot among locals and visitors alike is the Botanical Building, which features a variety of rare and exotic plants that make for unique photos.
Another great spot within Balboa Park is the California Tower at the Museum of Man. You can capture panoramic views of San Diego's skyline from here while admiring the tower's historic architecture. Whether you're looking to take portraits or landscape shots, Balboa Park has something for every photographer to explore and discover.
Overview
Balboa Park is a must-see destination for anyone visiting San Diego. It's one of the largest urban parks in the country and offers a wide range of attractions, from museums to gardens to performing arts venues. Here are some key highlights:
Balboa Park covers over 1,200 acres and features more than 15 major museums.
The park was first established in 1868 as City Park but was later renamed in honor of Spanish explorer Vasco Núñez de Balboa.
Many of the park's buildings were constructed for the Panama-California Exposition in 1915 and still showcase their historic architecture today.
Visitors can explore beautiful gardens like the Japanese Friendship Garden or stroll through Spanish Village Art Center with its colorful studios and shops.
In addition to these cultural offerings, there are plenty of outdoor spaces to explore within Balboa Park, including walking trails, playgrounds, and picnic areas. Whether you're an amateur photographer looking for new photo spots or want to spend time outdoors with family or friends, Balboa Park has something for everyone!
Photo Opportunities
Looking to take some fantastic photos in San Diego? Look no further than these top photo spots perfect for amateur photographers.
The Botanical Building and Lily Pond: This iconic San Diego landmark is perfect for capturing stunning nature shots, particularly during the spring when the flowers bloom.
The Cabrillo Bridge: Stroll along this historic bridge and capture panoramic views of the city skyline from above.
The Old Globe Theatre: Channel your inner Shakespearean with classic architecture shots at this renowned theatre.
Spreckels Organ Pavilion: Whether you're looking to capture stunning architectural details or attend one of their free musical events, there's something for everyone at this must-visit spot.
If you're looking for a beautiful natural reserve to explore and capture stunning photos in San Diego, Torrey Pines State Natural Reserve is the place to go. The park offers breathtaking views of the ocean, unique rock formations, and rare plants that can't be found anywhere else. With its hiking trails and scenic overlooks, it's no wonder why this reserve is a popular spot among amateur photographers looking to capture some unforgettable shots.
One of the best photo opportunities at Torrey Pines State Natural Reserve is at Razor Point Overlook. From this vantage point, visitors can see panoramic views of La Jolla Cove and North County coastline while capturing images of razor-thin cliffs jutting out over the Pacific Ocean. Another excellent spot for photography enthusiasts is one of the many hiking trails within the reserve. These paths offer ample opportunities for close-up shots of local wildlife or remote landscapes that many have never seen before.
Overview
Torrey Pines State Natural Reserve is a must-visit destination for nature enthusiasts and amateur photographers in San Diego. This stunning reserve offers breathtaking views of the Pacific Ocean, rare plant species, and scenic hiking trails that cater to all skill levels.
Photo Opportunities
Hiking Trails with Breathtaking Views: Lace up your hiking boots and hit the trails for some incredible views. Some great spots include Cowles Mountain, Iron Mountain, and Mount Woodson.
The Beach at Torrey Pines State Natural Reserve: This beach is a favorite among locals for its rugged coastline and stunning sunsets. Be sure to snap a photo of the iconic Torrey Pines cliffs while you're there.
Wildlife Photography in the Preserve: The San Dieguito River Park is home to an impressive array of wildlife, including coyotes, deer, bobcats, and mountain lions. Bring your telephoto lens and keep your eyes peeled for some fantastic shots.
At the Cabrillo National Monument, you'll find some of the most stunning coastal views in San Diego. Whether you're a professional photographer or just starting, this spot is perfect for capturing breathtaking shots to add to your portfolio. From rugged cliffs and rocky shores to tide pools teeming with sea life, there's no shortage of photo opportunities at Cabrillo National Monument.
Don't forget to bring your wide-angle lens for sweeping panoramic shots of the Pacific Ocean and Point Loma. And if you're lucky enough to visit during whale watching season (December-April), keep an eye out for these majestic creatures as they migrate along the coast. With so much natural beauty on display, it's no wonder why Cabrillo National Monument is one of San Diego's top photo spots!
The Gaslamp Quarter is a must-see for San Diego photo spots. It's Victorian-style buildings and vibrant nightlife provide an excellent backdrop for any photographer. Take advantage of the colorful murals, unique architecture, and bustling streets to capture stunning images.
Fifth Avenue is one spot that should not be missed in the Gaslamp Quarter. Lined with trendy shops, delicious restaurants, and historic theaters, this street offers a diverse range of subjects for your photos. Come during sunset to take advantage of the golden-hour lighting and get those Instagram-worthy shots you've been dreaming about!
Overview
San Diego is a top destination for photographers, offering diverse scenery that will inspire any amateur photographer. One must-visit location in San Diego for photography enthusiasts is the Gaslamp Quarter, which boasts vibrant colors and charming architecture for great photos. The Gaslamp Quarter offers a unique blend of old-world charm and modern amenities to impress any visitor.
Bring your gear if you plan on taking pictures in the Gaslamp Quarter because there's no shortage of photo opportunities. Here are some reasons why the Gaslamp Quarter should be on your list:
Rich history: The district was established in 1867 when Alonzo Horton purchased land from William Heath Davis.
Stunning architecture: The area features Victorian-style buildings with intricate designs, allowing visitors to capture truly stunning photos.
Vibrant nightlife: Besides its architectural beauty, the area also has plenty of bars and restaurants where you can take pictures or enjoy a night out after taking your shots.
Overall, if you're looking for great places to shoot photographs in San Diego, don't miss out on exploring the Gaslamp Quarter. It's historical significance and picturesque surroundings offer endless possibilities for capturing breathtaking images.
One breathtaking spot for photography enthusiasts. With its stunning panoramic view of the Pacific Ocean, visitors can capture unforgettable sunset shots from various angles. The park's cliff edges and beaches offer unique perspectives and create an ideal setting for landscape photography.
Aside from sunset views, Sunset Cliffs Natural Park is also home to diverse wildlife, such as sea birds, seals, and dolphins. Wildlife enthusiasts will have a field day capturing these animals in their natural habitat. It's important to note that telephoto lenses are highly recommended when photographing wildlife to avoid any disturbance or harm to the creatures.
Each one of these locations offers a unique backdrop for your photos. Whether you want to capture the rugged beauty of the coastline or the rich history and culture of San Diego, there's something here for everyone. So grab your camera and explore some of the best photo spots in town!
Atop the hills of the Cabrillo National Monument stands the iconic Old Point Loma Lighthouse. Built-in 1855, it served as a beacon for mariners navigating the treacherous waters of San Diego Bay for over 30 years before being decommissioned. Today, visitors can tour this historic landmark and capture stunning photos of its exterior and interior.
From the lighthouse's balcony, you'll get breathtaking views of downtown San Diego on one side and miles of rugged coastline on the other. Photogenic artifacts like antique furniture and vintage photographs make great subjects for close-up shots. Don't forget to bring your tripod if you want to experiment with long exposures during golden hour or at night when they light up the tower!
Overview
San Diego is a photographer's paradise, offering an abundance of diverse landscapes to capture. Whether you're into street or landscape photography, San Diego has something for you. Exploring different photo spots in San Diego is essential if you want to capture the true essence of this stunning city. One spot that stands out is the Old Point Loma Lighthouse - a historic landmark with breathtaking views.
Here are some key points:
With its gorgeous beaches, urban areas, and lush greenery, San Diego offers photographers endless opportunities to create beautiful images.
Exploring different photo spots allows you to see unique perspectives of the city and showcase your creativity.
The Old Point Loma Lighthouse dates back over 150 years. It offers panoramic views of the Pacific Ocean coastline, making it a must-visit location for awe-inspiring photographs.
Seaport Village is a must-visit for those looking for unique photo spots in San Diego. The waterfront location provides stunning views of sailboats and the iconic Coronado Bridge, while the charming shops and restaurants offer colorful backdrops for portraits. Be sure to capture a shot at the carousel or in front of one of the many whimsical sculptures scattered throughout Seaport Village.
For a more dramatic photo, head to Seaport Village during sunset hours. The combination of vibrant colors reflecting off the water and silhouettes of ships creates an unforgettable scene. Don't forget to experiment with different angles - try shooting from low perspectives or incorporating leading lines into your composition for added interest.
Imagine a place where time stands still, where breathtaking beauty and rich history converge to create a photographer's dream come true. Welcome to the enchanting Coronado Islands, a hidden gem nestled off the coast of Southern California.
Prepare to be captivated by its charm, picturesque landscapes, and deep-rooted historical significance.
Here's why photographers should embark on a journey to Coronado Islands and uncover the secrets that lie within:
Timeless Beauty: Coronado Islands exudes an undeniable allure with its pristine beaches, rugged cliffs, and azure waters. Every corner of this archipelago is a canvas waiting to be painted with the magical hues of sunrise and sunset, offering photographers the perfect backdrop to capture the essence of paradise.
Historical Significance: Steeped in history, the Coronado Islands hold a special place in the heart of California. They witness the tales of early explorers and the legends of indigenous cultures that once thrived upon these shores. As a photographer, you can immortalize the spirit of the islands and weave together the threads of the past and present.
Abundant Wildlife: The Coronado Islands are home to diverse wildlife, both on land and beneath the waves. Seals, sea lions, dolphins, and a variety of seabirds grace the shores, while beneath the surface, colorful marine life dances amidst vibrant coral reefs. As a photographer, you can capture these incredible creatures in their natural habitat, preserving their beauty for generations.
Dramatic Landscapes: From towering cliffs to hidden coves, the landscapes of Coronado Islands are a photographer's playground. Explore the rugged terrain, seek out unique vantage points, and let your lens capture the dramatic interplay of light and shadow that bathes these extraordinary landscapes. Each frame holds the potential to tell a story and evoke emotion.
Tranquility and Serenity: In the embrace of Coronado Islands, find solace and serenity away from the hustle and bustle of everyday life. Let the soothing whispers of the ocean and the gentle caress of the sea breeze transport you to a world of tranquility. As a photographer, this serenity will infuse your work, creating images that exude peace and invite viewers to immerse themselves at the moment.
Timeless Inspiration: Coronado Islands have inspired artists, writers, and dreamers for centuries. Feel the creative energy that permeates the air and let it ignite your imagination. Allow the island's beauty and historical significance to awaken a sense of wonder within you, fueling your passion for photography and unlocking new realms of creativity.
As you embark on your photographic journey to Coronado Islands, be prepared to be moved by the beauty that unfolds before your lens. Capture the essence of this hidden paradise, immortalizing its magic for all to behold. And once you've captured those mesmerizing shots, don't hide them. Share your art with the world, enter photography contests, and let your work inspire others.
San Diego is renowned for its stunning and Instagrammable locations, and one of the hidden gems that photographers shouldn't miss is the Spruce Street Suspension Bridge. Located in the charming neighborhood of Bankers Hill, this iconic landmark offers a unique and picturesque setting for your photography adventures.
Here are some tips and tricks to help you capture the beauty of the Spruce Street Suspension Bridge and make your images truly stand out:
Timing is Key: Visit the bridge during the golden hour—the hour after sunrise or before sunset—when the soft, warm light creates a magical ambiance and adds a captivating glow to your photographs.
Framing and Composition: Use the bridge's structure to create interesting compositions. Frame your shot by positioning the bridge diagonally across the frame or using its lines to guide the viewer's eye toward a specific point of interest.
Play with Perspective: Experiment with different angles and perspectives to showcase the bridge's unique design. Get low to the ground for a dynamic and dramatic view, or capture the bridge from above to emphasize its length and suspension.
Leading Lines: Utilize the lines of the bridge to create a sense of depth and draw the viewer's attention toward the main subject. Use suspension cables, railings, or surrounding trees to guide the eye through the frame.
Incorporate People: Include individuals or groups of people on the bridge to add a sense of scale and human connection to your photographs. Capture candid moments of people walking, leaning on the railings, or enjoying the view.
Long Exposure: If you're comfortable with long exposure techniques, try capturing light trails from passing cars on the bridge or create a smooth, ethereal effect with the flowing water of nearby streams or fountains.
Explore the Surroundings: Don't limit yourself to just photographing the bridge. Take the opportunity to explore the surrounding neighborhood of Bankers Hill, which offers beautiful architecture, lush gardens, and charming streetscapes that can complement your images.
Remember always to respect the bridge and its surroundings. Be mindful of pedestrians and avoid obstructing foot traffic while setting up your shots.
The Mission Beach Boardwalk is one of the most photogenic spots in San Diego. With its stunning natural beauty, vibrant culture, and picturesque landmarks, you'll find plenty of opportunities to capture memorable shots here. Whether you want to snap photos of the beach's panoramic views or take portraits against colorful backdrops, this iconic destination has something for everyone.
As you stroll along the Mission Beach Boardwalk with your camera in hand, don't forget to keep an eye out for interesting subjects that will make your photos stand out. From surfers catching waves to street performers entertaining crowds, countless moments are waiting to be captured on film. And with so many different angles and perspectives available, you can experiment with your composition until you find the perfect shot that truly captures the essence of San Diego's unique vibe.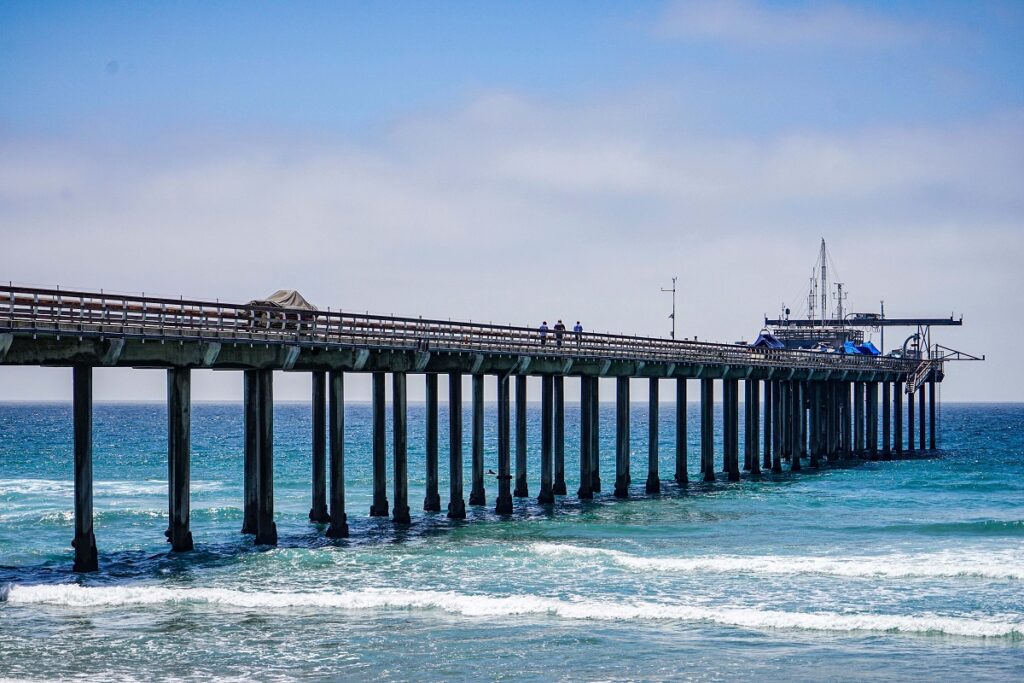 Scripps Pier stands out as a true gem when it comes to picturesque locations for photography in San Diego. This iconic landmark offers a plethora of creative opportunities to capture stunning images.
Let's explore why Scripps Pier is a must-visit photo spot and explore some creative ideas to photograph this captivating location.
Golden Hour Magic: One of the best times to photograph Scripps Pier is during the golden hour. The soft, warm sunrise or sunset light casts a beautiful glow on the pier, creating a magical ambiance. Capture the pier silhouetted against a colorful sky or experiment with long exposures to capture the gentle motion of the waves.
Leading Lines and Symmetry: Utilize the long, linear structure of the pier to create visually striking compositions. Use the pier lines to guide the viewer's eye towards the horizon or incorporate symmetrical elements for a balanced composition. Experiment with different angles and perspectives to add depth and interest to your photos.
Reflections and Mirrors: Take advantage of the wet sand on the beach during low tide to capture stunning reflections of the pier. The mirrored surface creates a captivating effect, adding a touch of elegance and uniqueness to your images. Position yourself at different angles to capture the perfect reflection and experiment with exposure settings for desired results.
Silhouettes and Shadows: Use the pier as a backdrop to create intriguing silhouettes and play with shadows. During sunset, position your subjects against the colorful sky and capture their outlines against the vibrant hues. Alternatively, photograph the pier itself, emphasizing its shape and form against the setting sun or the rising moon.
Night Photography: Once the sun sets, Scripps Pier becomes a captivating night photography subject. Capture long exposures to capture the motion of the waves and the lights along the pier. Experiment with different shutter speeds and aperture settings to achieve stunning light trails and a sense of drama in your images.
As you embark on your photography adventure at Scripps Pier, don't forget to explore the surrounding area. San Diego offers numerous other photo spots, such as the stunning coastline, Balboa Park, and the colorful streets of downtown. Take the opportunity to capture the essence of this vibrant city and expand your portfolio.
Once you've captured your breathtaking images at Scripps Pier and other San Diego locations, consider sharing your work and entering photo contests to gain exposure and recognition. Viewbug, a popular photography platform, offers dozens of contests that may be of interest to you:
Secret Gem: Windandsea Beach in San Diego is hidden gem photographers cherish for its natural beauty and unique features.
Dramatic Cliffs: The beach is renowned for its stunning rocky cliffs that create a dramatic backdrop for photographs, adding depth and visual interest.
Ocean Waves: The crashing waves at Windandsea Beach provide a dynamic and captivating subject, allowing photographers to capture the power and beauty of the ocean.
Sunset Magic: The beach offers breathtaking sunset views, with the warm golden light casting a magical glow over the surroundings. Photographers can capture stunning silhouettes and vibrant colors during this time. Take photos at this time of the year to make your friends go WOW from your pics.
Tide Pools: The beach features fascinating tide pools teeming with marine life. Photographers can explore the tide pool inhabitants' intricate details, textures, and vibrant colors, creating unique and captivating images.
Secluded Atmosphere: Windandsea Beach has a more secluded and tranquil atmosphere compared to some of the more popular beaches in San Diego. This allows photographers to capture intimate and serene moments without crowds.
Surfing Culture: The beach is a hotspot for local surfers, presenting photographers with the chance to capture action shots and document the vibrant surfing culture of San Diego.
Iconic Surf Shack: Windandsea Beach is famous for its iconic surf shack, known as the Windansea Shack, which has become a beach symbol. Photographers can capture its rustic charm and incorporate it into their compositions.
Natural Elements: The beach offers an abundance of natural elements, including interesting rock formations, tide lines, driftwood, and seashells. These elements provide photographers with endless possibilities for creative and textured compositions.
Hidden Treasures: Windandsea Beach is a lesser-known spot, making it a secret paradise for photographers seeking unique, off-the-beaten-path locations to capture their shots.
Photographers are drawn to Windandsea Beach for its secluded beauty, dramatic landscapes, captivating ocean views, and serene atmosphere. It's a place where they can unleash their creativity, capture unique moments, and discover hidden treasures along the San Diego coastline.
Casa del Prado in San Diego is a beloved destination that holds a special place in the hearts of travelers and photographers alike. Nestled within Balboa Park, this architectural gem offers many reasons why it captivates the imagination and remains a popular spot for exploration and photography.
Let's delve into the reasons why travelers and photographers adore Casa del Prado:
Historic Charm: Casa del Prado exudes a timeless charm that transports visitors to a bygone era. Built-in the Spanish Colonial Revival style, its magnificent architecture and intricate details evoke a sense of grandeur and elegance. The building is a captivating subject for photographers seeking to capture the essence of San Diego's rich history.
Vibrant Cultural Hub: Casa del Prado is a vibrant cultural hub, housing various arts and cultural organizations. As a traveler or photographer, you can immerse yourself in the artistic and creative energy that flows through its halls. The vibrant atmosphere and diverse activities provide endless opportunities to capture candid moments and unique cultural experiences.
Scenic Surroundings: Situated in Balboa Park, Casa del Prado is surrounded by picturesque gardens, lush greenery, and stunning architectural landmarks. This natural beauty is a stunning backdrop for photographs, allowing you to incorporate vibrant colors, textures, and natural elements into your compositions.
Versatile Photography Settings: Whether you're drawn to capturing architectural details, street scenes, portraits, or nature photography, Casa del Prado offers a variety of settings to suit your artistic vision. From the sweeping archways and ornate facades to the bustling courtyards and serene garden spaces, there is something for every photographer to explore and capture.
Cultural Events and Festivals: Casa del Prado hosts various cultural events, festivals, and performances annually.
This creates a vibrant and dynamic atmosphere, providing photographers ample opportunities to document the energy, emotions, and cultural celebrations unfolding within its walls.
Creative Inspiration: Casa del Prado serves as a wellspring of creative inspiration. The blend of art, history, and cultural experiences ignites the imagination, encouraging photographers to push boundaries and experiment with their craft. Allow the beauty and ambiance of Casa del Prado to inspire your artistic vision and create captivating images.
Casa del Prado is a haven for travelers seeking cultural immersion and photographers seeking to capture the essence of San Diego's rich heritage. Embrace its historic charm, explore its surroundings, and let your photographs reflect Casa del Prado's enchantment.
Final Thoughts
What are the most picturesque neighborhoods in San Diego to check if you have just one day?
San Diego is filled with picturesque neighborhoods that amateur photographers love exploring. If you're looking for some inspiration, here are a few areas that stand out:
1. North Park: This trendy neighborhood is known for its vibrant street art, vintage architecture, and hip restaurants. Wander the streets, and you'll find plenty of photo-worthy scenes.
2. La Jolla: Located along the coast, La Jolla offers stunning views of the ocean and cliffs. Be sure to visit Windansea Beach for some particularly beautiful shots.
3. Gaslamp Quarter: This historic neighborhood in downtown San Diego boasts Victorian-style buildings and plenty of colorful murals. It's a popular spot for both tourists and locals alike.
4. Little Italy: As the name suggests, Italian culture heavily influences this neighborhood. There's no shortage of photo ops here, from the charming piazzas to the bustling farmer's market.
5. Balboa Park: This massive park has numerous gardens, museums, and theaters. Whether you're snapping pics of the ornate architecture or the lush greenery, there's something for every photography style here.
These are just a few of the many picturesque neighborhoods in San Diego - happy exploring!